A good pigeon pedigree clearly shows a pigeon's ancestry alongside their respective ring numbers as well as traits such as colour and any remarks or results.
Keeping accurate and up-to-date pedigree records is of critical importance when breeding pigeons, especially for racing stock or if you plan to sell birds at a later date.
The pedigree certificate itself (the paper) should show the breeder's information, loft name and contact details along with the pigeon's ring number as the bare minimum.
Pigeon pedigree examples
As you look at more and more pedigrees it becomes apparent that many lofts go for fantastical colours and fancy backgrounds, almost as if there's a competition between who has the best looking piece of paper. 
While, for commercial lofts that sell birds, an eye-catching pedigree may be desirable. Too much colour or flashy design can divert attention away from the actual pigeon.
Here are some pedigrees for inspiration and to give you an idea of what's floating around out there.
Pedigrees with background and fancy designs are almost always created using pedigree software, we'll get onto that in a moment.
Creating your own pedigrees
In the past most pedigrees were hand-written, however, in this day and age there are far more time efficient and easier ways to go about things.
The digital format of choice for pedigrees is of course the PDF. These can be opened directly in most web browsers, sent in emails, printed, hosted online, and can be locked to prevent people from editing them etc.
To make your own pedigree "PDFs" you really have three options:
acquire a template – print and fill it out by hand (then scan it if you want a digital copy ) or subscribe to Adobe Acrobat Pro DC (not cheap) and fill out the pedigree on the computer for each pigeon.
use a spreadsheet template – has the added benefit of being able to store all of your records. Downside is it's less fancy.
use pedigree/loft management software.
Templates
Here are a few simple free templates you can print out and write on.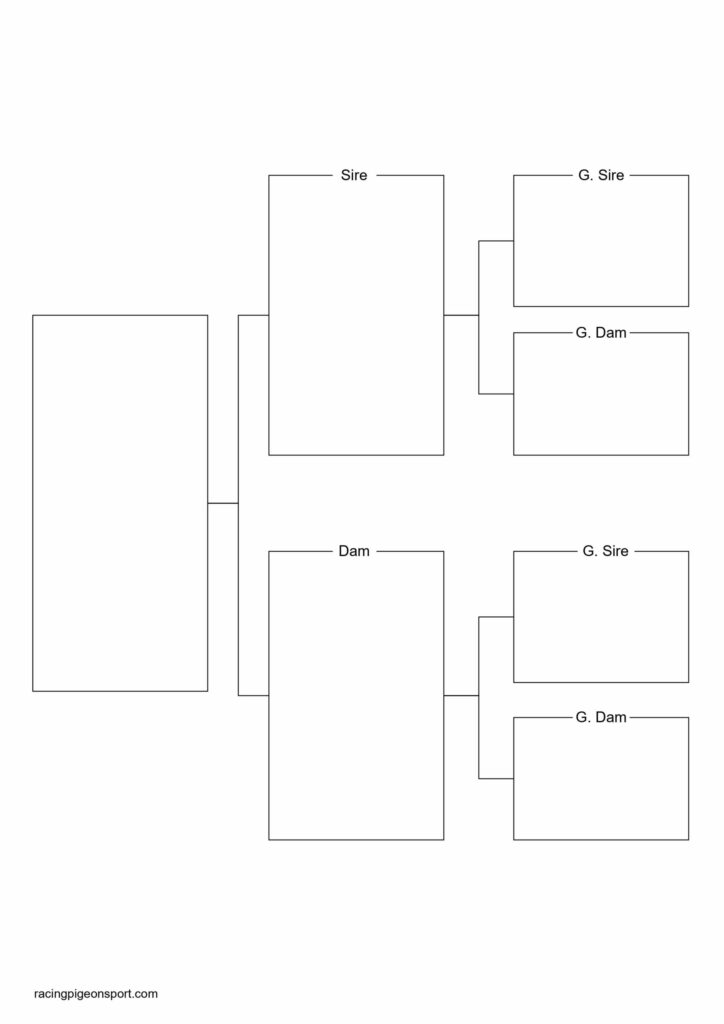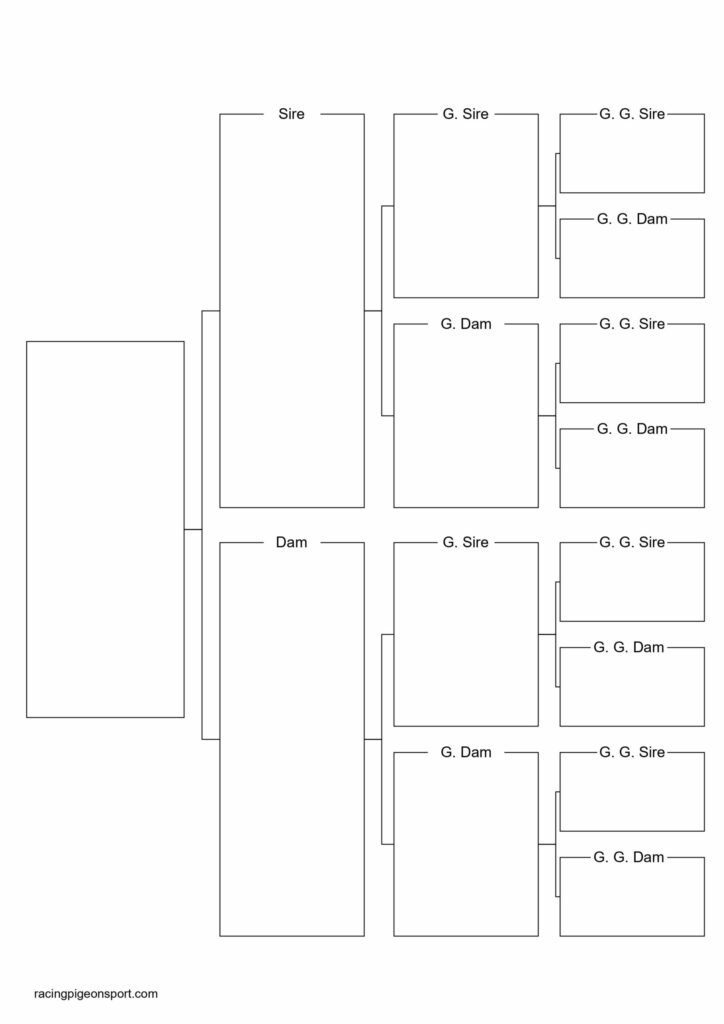 If you're looking for something to actually store data and pass that dynamically into a pedigree template then we need to take things a step further by using either a spreadsheet or pedigree software..
Using a spreadsheet
If you don't mind a very minimal setup it is possible to keep records entirely in a spreadsheet using Microsoft Excel or Google Sheets.There are obviously limitations on what can be achieved in terms of the aesthetics of the pedigree PDF itself, but hey it's quick, free and allows you to keep digital records while you make your mind up on a software.
Spreadsheet pedigree template
Enter your email below and you will be sent the template and some instructions on how to use it to create pedigree pdf files.
Softwares
When it comes to choosing a pedigree software it is definitely worth taking some time to test a few out and really consider your options before committing.The last thing you want is to spend years building your records on a particular program only to be stuck using that, if say something better comes along, development stops or support for your program becomes unavailable..Most of the traditional programs don't allow you to export your data in a file that is readable outside of their application. Which, depending on how you look at it, could be a bit of a red flag.
Ideally, you want to be able to export your data as a spreadsheet for ultimate flexibility and peace of mind.So with that said, what are your options for software?
Pigeon planner
Pigeon planner is an open-source, free-to-use software available for Windows, Linux and Mac. Being completely free, it seems to be a fairly popular choice for fanciers with little to no budget.
Pros
Completely free to use
Relatively clean UI
Has a forum to discuss issues, improvements to be made, features etc.
Cons
Takes a bit of time to learn where everything is and set up the pedigree (we still couldn't get it how we wanted)
Unable to export data as a spreadsheet
Information displayed on pedigree seems to only allow a single attribute for ancestors (i.e. strain OR colour, not both)
Hawkeye Loft Management System
Hawkeye by Comproware is available for Windows and has been around for donkeys years, serving as a solid loft management program for many fanciers in that time.
In addition to producing pedigrees, Hawkeye includes functionality for race management as well as quite a sophisticated report generation tool. 
While these will be helpful to some fanciers, features like these can be a bit overkill if you are just looking for something to keep basic records and produce pedigrees.
The user interface can be a bit overwhelming at first as a new user but after entering some data and spending a bit of time it becomes much easier to navigate.
Pedigrees templates include 3, 4 and 5 generations.
Pros
Free version available, though some pedigree templates are locked
Possible to bulk edit birds; changes the status, for example, to lost or assign to a different team.
Bulk add new rings/bands
Cons
User interface can be overwhelming at first.
Unable to export data as a spreadsheet
Could be a bit confusing for fanciers just looking for something to keep basic records
Price
Hawkeye light is available for free, the pro version is available for $79 (about £60) and the website states that "program upgrades for a period of 12 months are FREE".
Likely meaning any updates that are made to the software after 12 months will require another purchase. (Any feedback as to whether or not this is the case would be appreciated.)
Pigeon Loft Organizer
Another long-established pigeon pedigree and loft management software. Like Hawkeye, PLO goes beyond just pedigrees and basic record management and is quite the swiss-army knife of loft management programs (if you know how to use it).
PLO aims to be the all round loft management software in every sense of the word. The breeding module is quite extensive, allowing you to keep track of things like pairings; nest box, pair date, etc.
The racing module allows you to add race points, though we couldn't figure out how to set the weather… (which is a required field).
Transactions allows you to record birds bought and sold and produce invoices and is a great little addition for fanciers selling birds.
In terms of pedigrees, which PLO is perhaps most well-known and used for.
There are 7 different templates ranging from 3, 4 or 5 generations, including a 4 generation landscape template that you can use a custom background with.
Pros
Free version available, though some pedigree templates are locked
Decent range of pedigree templates, though some clearly a lot better than others.
Bulk add ring numbers
Handy printouts, i.e. nest box cards, pool sheet, vaccination certificates, etc.
Cons
Not the most intuitive of UIs, often requiring you to submit something to prompt a 'required field'. Bit annoying as a first time user but gets better with use.
Unable to export data as a spreadsheet
Does take a bit of patience to go through all the required settings for certain features (weather?) 
Price; PLO costs $89
LoftMate
LoftMate is a cloud-based pigeon pedigree software. Meaning pigeon records you create are not stored on your computer. This allows you to access them from any device with an internet connection.
Pedigree templates currently available include a 3 and 4 generation. It's free to use to create up to 10 pedigree pdfs per month, or there's a paid plan for 5 gbp/usd that gives you unlimited pdf creations. The UI looks rather clean and easy to understand and is fully compatible with phones, tablets, laptops or desktop computers. Ancestry and progeny records are automatically kept up to date as birds are created, and they have offspring etc. All in all a nice little app that does what it says on the tin.
Pros
Free to use
Mobile and tablet Compatible
Share pdfs easily with a link
Export your records as a spreadsheet easily.
Cons
Limited pedigree templates at the moment.
Free plan only allows 10 pedigree pdf creations per month.
Price; Free